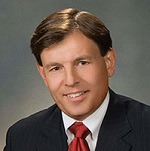 Bob Keebler's Customizable PowerPoint That Advisors Can Use
---
The Tax Cuts & Jobs Act of 2017 is a once-in-a-generation piece of legislation that is starting to impact client and advisor behavior in a significant way. As TCJA ripples through the American economy, clients need guidance from their trusted advisors on how they should proceed.

This time-saving PowerPoint deck will help you quickly explain the new law to your clients and how you can add value.

Now that tax season is over, the best way you can help clients prepare for these massive changes is threefold:

1) Refresh your understanding of what's in the TCJA;

2) Develop a strong sense of what to say to clients, and

3) Use Bob Keebler's TCJA PowerPoint deck with clients and other advisors.
Bob Keebler, who was named by CPA Magazine as one of the Top 100 Most Influential Practitioners in the United States, developed a special PowerPoint deck that you can custom brand and use with clients. Bob's deck covers the waterfront of issues you need to address with clients, including the following:
Individual changes, including bracket reduction, the increased standard deduction, elimination of personal exemptions, the increased child/family credit, the increased AMT exemption, the new SALT and mortgage deduction rules and the real of the PEASE limitation;


Business changes, including the new 21% corporate rate. Increased expensing for capital items, new business interest and business loss limitations, modification of the NOL rules, like-kind exchange rule changes, and the new 20% pass-through deduction;


Estate tax changes, including the doubling of the exemption to $11.18 million.
You get to custom brand Bob's deck and you also get to listen to Bob's webinar where you can listen to how he explains how each of the provisions in his PowerPoint deck will impact clients, along with his detailed explanation of the planning techniques clients should consider implementing. Hearing Bob will give you a strong sense of what to say to clients when you do your presentation.
To get started, simply click the Buy Now button on this page.

---
If you are not a LISI member please use the Buy Now Button below to pay the non-member price of $129.
After you pay you will be sent a link with the registration information. If you have any questions, please contact webinaradmin@leimbergservices.com
NOTE: To pay using a credit card, use the botton labeled
"Pay with Debit or Credit Card" after clicking the Buy Now button below.

If you are a LISI member, please login below to receive the member price of $99
Robert S. Keebler, CPA/PFS, MST, AEP (Distinguished) is a partner with Keebler & Associates, LLP and is a 2007 recipient of the prestigious Accredited Estate Planners (Distinguished) award from the National Association of Estate Planners & Councils. He has been named by CPA Magazine as one of the Top 100 Most Influential Practitioners in the United States and one of the Top 40 Tax Advisors to Know During a Recession. Mr. Keebler is the past Editor-in-Chief of CCH's magazine, Journal of Retirement Planning, and a member of CCH's Financial and Estate Planning Advisory Board. His practice includes family wealth transfer and preservation planning, charitable giving, retirement distribution planning, and estate administration. Mr. Keebler frequently represents clients before the National Office of the Internal Revenue Service (IRS) in the private letter ruling process and in estate, gift and income tax examinations and appeals. In the past 20 years, he has received over 250 favorable private letter rulings including several key rulings of "first impression." Mr. Keebler is nationally recognized as an expert in estate and retirement planning and works collaboratively with other experts on academic reviews and papers, and client matters. Mr. Keebler is the author of over 75 articles and columns and editor, author, or co-author of many books and treatises on wealth transfer and taxation, including the Warren, Gorham & Lamont of RIA treatise Esperti, Peterson and Keebler/Irrevocable Trusts: Analysis with Forms. Mr. Keebler is the Chair of the AICPA's Advanced Estate Planning Conference. He is a featured columnist for CCH's Taxes Magazine - "Family Tax Planning Forum," Bob is also a contributing author to the American Bar Association's The ABA Practical Guide to Estate Planning. Robert.Keebler@KeeblerandAssociates.com