Early Termination of Trusts: Panacea or Professional Negligence?
Watch Now!
Recording and Slides are Available Here
---
In this day and age of high federal estate tax applicable exclusion amounts, many clients desire to terminate trusts that they perceive to no longer have value in their estate planning. These could be by-pass trusts, life insurance trusts or other irrevocable trusts. However, trust terminations have tax consequences. Do you know what they are?

In their exclusive 90 minute LISI Webinar presentation, Paul Hood and Ed Morrow will methodically and carefully take you through those tax consequences, some of which might really shock you. They'll also point out where the law is unsettled in this area. If you aren't positive of the tax consequences of trust termination, you need to attend this webinar! Best of all, Paul will cover sample documents you can use in your practice!

Here's a list of just some of the topics Paul and Ed will cover in this content-packed webinar:

The potential tax consequences of a simple trust termination.
How the role that the U.S. Supreme Court's decision in Cottage Savings could play in the determination of the income tax consequences.
Do you fully understand all of the potential income tax consequences of a decanting?
The Black Hole of basis, IRC Sec. 1001(e), and some creative ways around it.

The estate, gift and generation-skipping transfer tax consequences of reformations, terminations and decantings
Review a sample CYA letter for clients who want to terminate trusts warning about the potential income tax consequences.



There will be no CE for this webinar


For those who have a conflict with the date/time, The session will be recorded. Simply register and you will have unlimited access to the recording.

Although they are scheduled for a particular time and date - once purchased - they can be viewed at ANY TIME!.
---
If you are not a LISI member please use the Buy Now Button below to pay the non-member price of $149.
After you pay you will be sent a link with the registration information. Your webinar registration is designed for one individual user and groups up to 5 individuals. Sharing beyond this is not permitted. If you are interested in group access to our webinar content, please send an email to lisiwebinars@gmail.com

If you have any questions, please contact webinaradmin@leimbergservices.com
NOTE: To pay using a credit card, use the botton labeled
"Pay with Debit or Credit Card" after clicking the Buy Now button below.

If you are a LISI member, please login below to receive the member price of $129 for this webinar.
Edwin Morrow, J.D., LL.M., MBA, CFP®, CM&AA® is a board certified specialist in estate planning and trust law through the Ohio State Bar Association and a Fellow of the American College of Trust and Estate Counsel (ACTEC). He is based in Cincinnati, Ohio as a Wealth Strategist for the eastern U.S. region of U.S. Bank Private Wealth Management and can be reached at edwin.morrow@usbank.com. Ed is a co-author with Paul of Tools and Techniques of Estate Planning, 19th Edition
---
---
A native of Louisiana (and a double LSU Tiger), Paul Hood obtained his undergraduate and law degrees from Louisiana State University and an LL.M. in taxation from Georgetown University Law Center before settling down to practice tax and estate planning law in the New Orleans area. Paul has taught at the University of New Orleans, Northeastern University, The University of Toledo College of Law and Ohio Northern University Pettit College of Law. The proud father of two Eagle Scouts and LSU Tigers, Paul has authored or co-authored seven books and hundreds of professional articles on estate and tax planning and business valuation. He was with The University of Toledo Foundation for over four years as Director of Planned Giving, leaving in January 2018. He can be contacted at paul@paulhoodservices.com
---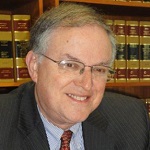 Steven Siegel
August 27, 2020 3:00PM ET - 4:30PM ET ET

Domicile Planning: Shopping and Changing – Is It Time to Get Out of Dodge?
More Info